Crossworks Training and Consulting Corporation, in partnership with The Bridge Student Center, just recently ran the Isip Bata Project (Design Thinking Workshop) to more than a dozen High School Students in Marawi, Lanao Del Sur. Students underwent the initial phases of the Design Thinking process namely Empathize, Define, and Ideate. They also learned the use of tools such as the Empathy Map, POV Madlib, and Mind Mapping. It was a great learning experience for the students, and they ended the session armed with ideas that they can now prototype and test in their community.
Helping rebuild Marawi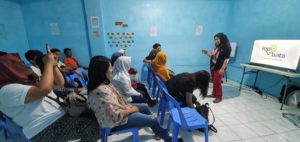 "We're truly grateful for being a part of this endeavor by The Bridge Student Center. We would like to be able to share in our own little way what we can for rebuilding Marawi through educating the students." mentioned, Len Mallari, VP for Finance and Admin of Crossworks. Mrs. Mallari also encouraged the students to not let their youth become a hindrance for them coming up with solutions and innovations.
Innovation beyond products and technology
This course was facilitated by none other than The Corporate Mechanic, Mr. Joey Mallari. He is one of the experts and advocates of Design Thinking in the country. He frequently runs innovation workshops for business and corporations. Unlike other experts on DT, he goes beyond the technological applications and uses DT beyond product design but also for service design. He believes that DT can be used by everyone, not just the techies, to solve a multitude of problems. Mr. Mallari is also one of the five co-founders of the Isip Bata Project from the Asian Institute of Management. This group aims to teach students how to innovate using Design Thinking as a framework.
If you would like to know more about how to make your organization more Innovative, contact Crossworks today. Crossworks offers public courses on Design Thinking and also conducts Innovation workshops for companies that goes beyond technological implementations.